Infants, Toddlers and Preschoolers
Missouri Statewide Parent Involvement Network (MoSPIN)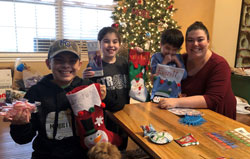 Left: Parent Advisor, Sherri Nichols, and her family celebrated their 100 th visit together. They celebrated with stockings filled with a 100-piece puzzle, 100 stickers, and 100 candy canes.
The purpose of the Missouri Statewide Parent Involvement Network (MoSPIN) is to provide a free homebased program for families of children, birth through five years of age, who are visually impaired, including those with multiple disabilities and combined vision and hearing challenges. Services are coordinated with local education agencies, adult service providers and deafblind task forces to enhance networking and to build expertise in the community.
MoSPIN provides:
Home visits by parent advisors… parents select one or two hour visits, not to exceed four hours per month;
Focus on parents as their child's first and most important teacher;
Information to help parents understand their child's visual diagnosis and learning characteristics;
Parent lessons on vision, communication, motor, hearing or cognition from the national INSITE curriculum;
Ongoing support and provision of resources to families.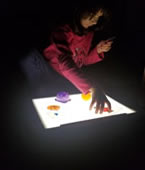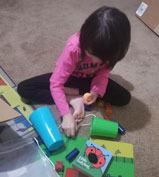 Left: A child uses an APH Light Box Kit during her MoSPIN home visit.
For additional information regarding the MoSPIN program or activities relating to families of children with combined vision and hearing loss, contact:
Melissa Moore, Lead Parent Advisor MoSPIN, Family Engagement Coordinator
Missouri School for the Blind
3815 Magnolia Avenue, St. Louis, Missouri 63110
314-633-1591 or Melissa.Moore@msb.dese.mo.gov
---
MSB Outreach Family Yoga Class
Please join Missouri Deaf-Blind Technical Assistance Project (MoDBTAP) and Missouri Statewide Parent Involvement Network (MoSPIN) for a free virtual yoga class for families of youth with vision loss, blindness, or deafblindness! Sessions will take place 1:30-2:30pm CST Mondays June 7 – July 26, 2021. For additional information, please view the MSB Outreach Family Yoga Flyer -Family Yoga Flyer
To register, please visit: MO Family Yoga Class Registration. Registration Due May 21.
---
To submit forms: please download to your computer, fill out, save and e-mail to Melissa.Moore@msb.dese.mo.gov
Archived Parent Time Newsletters - For reference use only