St. Louis Regional Braille Challenge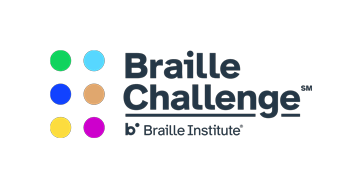 Braille Challenge Registration is OPEN!
The 2022 Saint Louis Regional Braille Challenge (STLRBC), open to all students in Missouri, will be a hybrid event this year! Contestants and their families and educators can choose to either participate in a remote testing window proctored by the student's TVI within their home district, or they may attend the in-person Challenge. The Awards Ceremony will include all contestants, remote and in-person, and will take place the day of the in-person event.
Registration closes December 8, 2021.
Where:
Remote Testing: Within students' home districts
In-person Event: Missouri School for the Blind, 3815 Magnolia Avenue, St. Louis, MO 63110
Awards Ceremony: Missouri School for the Blind and Live on MSB's Facebook Page
When:
Remote Testing Window: January 31-February 4, 2022
In-person Event & Awards Ceremony: March 3, 2022, 9am-3:30pm CST
How:
Registration: To register, submit the registration and permission form (see below) by December 8, 2021.
For details, please view the Braille Challenge FAQs page.
Mail:
Missouri School for the Blind
Braille Challenge
3815 Magnolia
St. Louis, Missouri 63110
Need Help?
Contact:
Mandy Clayton
Missouri-St. Louis Regional Braille Challenge Coordinator
314-633-1553
Or
Carlie Lee
Missouri School for the Blind Community Relations Facilitator
314-633-1562
What is the Braille Challenge?
The Braille Challenge is the only academic competition of its kind in North America for students who are blind or visually impaired. Braille Institute developed The Braille Challenge to motivate students to practice and hone their braille literacy skills, which are essential to academic and employment success.
Any blind or visually impaired student in grades 1 – 12 who can read and write braille is eligible to participate in the Braille Challenge. All Contestants are divided into five categories and tested on fundamental braille skills such as reading comprehension, spelling, speed and accuracy, proofreading, and charts and graphs. Contests are proctored by volunteer Teachers of the Visually Impaired and scored locally by volunteer transcribers, based on national guidelines.
All students can compete in the preliminary Braille Challenge events, which are held from January through the end of March throughout the United States and Canada, but only the top 50 students (10 in each category) with the highest scores are invited to Los Angeles for the final round – two days of competition, camaraderie and fun!